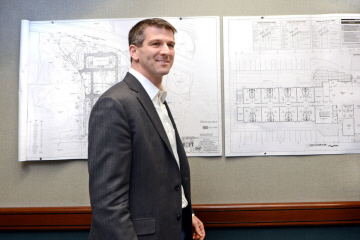 Mike Shirk became CEO of the High companies on January 1, 2015
Q&A With Mike Shirk: Building Trust With Co-Workers
Before becoming CEO on Jan. 1, the 39-year-old Lancaster resident and former Armstrong World Industries executive had been a member of the High boards of directors.
How are you enjoying your honeymoon period as CEO?
I've always enjoyed that "drink from the firehose" period of learning new businesses and meeting great people.
That will continue at a rapid clip for a while, but we're essentially viewing the honeymoon period as over. We're very focused on moving forward with many exciting opportunities ahead of us.
Do people treat you differently now that you are the big boss?
I can assure you my wife and kids don't. But in all seriousness, I suppose there is an element of this that comes with the territory.
One thing a CEO needs to know is that people do watch and listen. That's natural and OK. But intentional or not, you can send signals or messages that get spread or amplified and can be interpreted in different ways.
So self-awareness and empathy just become extra important tools in being effective.